The Model TTGM-101 GPS/Time Code Synchronized Generator and PTP Grandmaster is a low cost high performance unit that provides many features typically found on higher cost units. When operated in the GPS mode, time and rates are precisely referenced to UTC.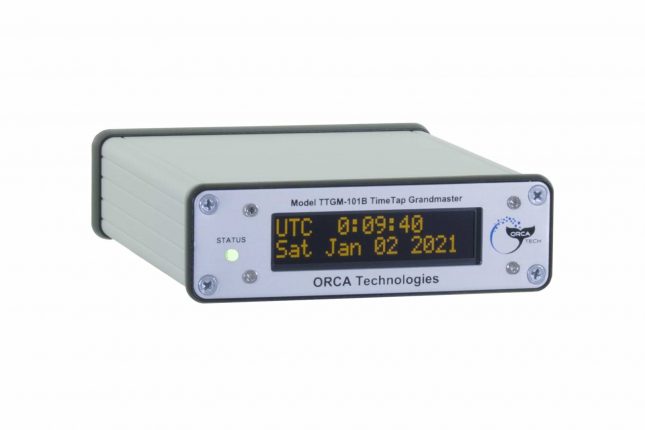 Features:
Synchronizes to GPS
Synchronizes to IRIG Time Codes
Default Profile for PTPv2
SNTP Time Server
SNMP operation
AM and DCLS Time Code Outputs
Precise 1PPS Output
N1 Rate Synthesizer
1PPS Time Interval Measurement
LED Status Indicator
OLED Time Display
RJ-45 100base-T port for PTPv2
Rugged / Portable Case
Windows GUI for Setup, Control and Time Interval Measurement Display
Product Description
The Model TTGM-101 GPS/Time Code Synchronized PTP Grandmaster, SNTP Server and Time Code Generator is ideal for applications utilizing GPS or time code input to generate IEEE-1588 PTPv2, SNTP or various time codes. Time and rate outputs are precisely referenced to GPS or time code input. The TTGM will also synchronize to a 1PPS input. In addition to PTPv2 and SNTP operation, IRIG A, B, G and NASA36 time code outputs, time is available on the USB port. Limited SNMP trap operation is also standard on this versatile unit.
The TimeTap will synchronize to the selected reference to less than 1 microsecond and can provide local or daylight savings time with settable timing offsets. The TimeTap can also provide the IRIG time codes to drive external time displays. This unit can be paired with the TT-101 for PTP synchronization over a network as well as time code synchronization. Computer synchronization can be accomplished with Domain Time II software available through ORCA Technologies.
This versatile product also has a 1PPS Time Interval Measurement feature that will graph the difference between the TTGM's 1PPS and an external 1PPS rising edge.
The TTGM-101 PTP implementation is compatible with and has partial compliance to the IEEE-1588 PTPv2 standard.
Product Specifications
General Specifications
Timing Accuracy:

< 100 nanoseconds to UTC (GPS)
< 1 microsecond to DCLS Time Code or 1PPS
< 5 microseconds to AM Time Code reference

Internal Oscillator: 50MHz Crystal Oscillator
Standard Inputs
GPS Input: 1.575 GHz L1 C/A Code GPS

GPS Receiver: 12 parallel channels
Internal Oscillator disciplined to GPS
Antenna: L1 GPS with 5-meter SMA cable
SMA labeled GPS ANT
AM Serial Time Code Input

Format: IRIG A, B, G; NASA36
Amplitude: 1-6 Vpp
Connector: SMA labeled CODE INPUT
DC Level Shift (DCLS) Serial Time Code Input

Specification: IRIG A, B, G; NASA36
Amplitude: TTL levels
Connector: DB-15 multi-pin, pin 9
1PPS Reference Input

Amplitude: TTL levels
Connector: DB-15 multi-pin, pin 7
Standard Outputs
PTPv2 Default Profile

Ethernet II, IPv4, UDP Multicast,
Two-step PTPv2 packets
Connector: RJ-45
Limited PTPv2 compliance
SNTP

Unicast protocol only
Hardware Timestamps

With accurate, low latency responses
AM Serial Time Code Output

Format: IRIG A, B, G; NASA36
Amplitude: 3 Vpp into 50 ohms
Ratio: factory set to 3:1
Connector: SMA labeled CODE OUTPUT
DC Level Shift (DCLS) Serial Time Code Output

Format: IRIG A, B, G; NASA36
Amplitude: 3.3V logic
Connector: DB-15 multi-pin, pin 10
1PPS Output

Logic Level: 3.3V logic into 50 ohms
Timing: Positive edge on time
Timing: Locked to the internal clock
Duty Cycle: 50%
Connector: DB-15 multi-pin, pin 5
N1 Rate Synthesizer x2 Outputs

Logic Level: 3.3V logic
0 to 16,777,215 PPS with 1PPS steps
Duty Cycle: 50%
Connector: DB-15 multi-pin, pins 3 and 6
Selectable Output

3.3V Logic, 1 of these signals: Buffered DC Input, 1PPS 50%, 1PPS 20us, N1(A), N1(B), DCLS Time Code,
Decade pulse rates to 10MPPS, 5MPPS, IRIG H, 1PPM
Connector: DB-15 multi-pin, pin 8
USB Port

Output Data: Time and Status
FTDI Virtual COM Port (Windows. Linux drivers available)
Connector: Micro USB
Supplies 5V unit power, Command Line Interface I/O,
Time once per second
DC Power Level: 5 Vdc < 500 mA

Powered through the USB Bus or DB-15 multi-pin

AC Power via AC to DC converter module

AC Power via AC to DC converter module
Environmental/Mechanical
Physical Dimensions

Size: 4.72″ length X 4.07″ width X 1.20″ height
Weight: 1 pound
OLED Display: 2 lines, variable intensity
Operating Temperature: 0 to 50 degrees C
Storage Temperature: -40 to +80 degrees C
Humidity: To 95% non-condensing
Antenna

Size: 1.81" length X 1.81" width X .50" high
Weight: < 1 pound
Operating Temperature: -40 to +70 degrees C
Storage Temperature: -40 to +85 degrees C
Connector: SMA
Cable Length: 5 meters (Longer lengths available)

Certification: RoHS Compliant
Ships with x2 SMA to BNC converter cables
Options
Breakout cable for DB-15 multi-pin connector
Domain Time II software
Product Views
Downloads
TTGM-101B GPS / Time Code Synchronized Generator