The System Matrix Switch (SMS-101) unit provides signal distribution via a sophisticated switch matrix amplifier system.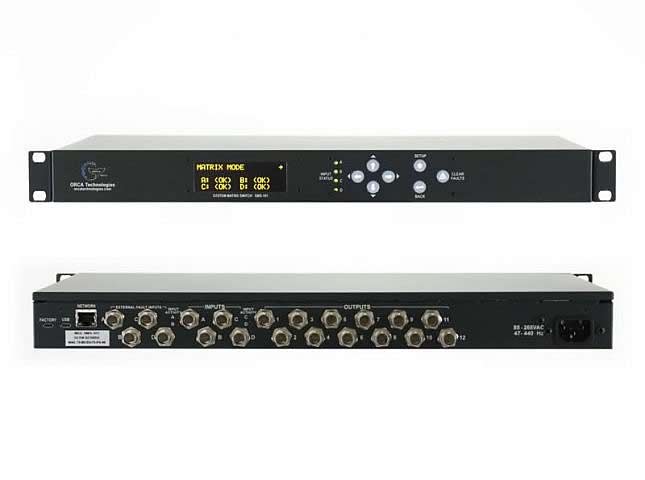 Features:
Time Code/Pulse Rate/RF Signal Distribution
High Level of Flexibility and Configurability

Distribution of One Input => Twelve Outputs
Switch Matrix with up to Four Inputs => Twelve Selectable Outputs
A/B Auto Switch
A/B and C/D Dual Auto Switch (independent operation)
A/B and C/D Auto Dual Bank Switch (concurrent switch)

Switch Operation Supports Redundant Capability
Input Signal Frequency Monitoring Logic
A, B, C, D Fault Inputs from external reference(s)
Configurable from Front Panel or Network Port
Front Panel OLED Display, Setup/Control Pushbuttons, Status LEDs
Rear Panel Status LEDs
Front Panel OLED/LED Alarm, Audible Alarm, Network Port Alarm
Web Page Interface for Easy Setup, Control and Status
Dual Power Supply Option (DC and standard AC)
Supports SNMP version 1
Product Description
The System Matrix Switch (SMS-101) unit provides signal distribution via a sophisticated switch matrix amplifier system. The unit consists of 4 inputs BNCs labeled A, B, C and D that can be routed to the 12 outputs BNC's labeled OUT1 through OUT12. Each of the 12 outputs has a dedicated 1 of 4 selector/switch that is used to determine the signal source (A, B, C D) for the output amplifier. Control of the switch is operating mode dependent. The instrument is designed with 50 ω source impedance and will provide unity gain from input to output. There is a control on each of the A, B, C and D inputs to provide a gain of ½ (for operation without 50 ω termination).
The System Matrix Switch includes comprehensive input signal frequency monitoring logic where the user can define what the expected frequency should be on each input. If the input signal does not fall within the defined margin of error and the unit is in any of the auto modes, a frequency fault condition may cause a switch to occur. The unit also has 4 fault logic level inputs that map to the A, B, C and D inputs. These inputs can be connected to upstream equipment (reference source) to signal the System Matrix Switch that the reference is not viable.
The front panel consists of a 4 line by 20 character alpha-numeric display, a control keypad and 4 multi-color input status LEDs. The tactile front panel switches consist of 4 arrow navigation, SETUP, BACK and FAULT CLEAR keys. The display is an OLED type that provides improved readability over standard LCD displays.
The rear panel contains 12 output signal BNCs, 4 input signal BNCs, 4 external fault input BNCs, RJ-45 network connector, USB and power input connector. Each of the 4 inputs has an activity status LED that indicates the signal applied to the input is valid. This is helpful when hooking up signal cables in the back of an equipment rack to determine that the input has activity.
General Product Specifications
Inputs ( Four: A, B, C, D; female BNC )
RF and Time Code

Frequency: 0 to 10 MHz
Level: +/- 0.5V to 7V (gain = ½)
Level: +/- 0.5V to 3.5V (gain = unity)
Impedance: 100K or 50Ω
Digital

Frequency: 0 to 10 MPPS
Level: < 7V High (gain = ½)
Level < 3.5V High (gain = unity)
Impedance: 100K or 50Ω
External Alarm Input (A, B, C, D)

Active State: configurable Hi/Low
Logic Hi: <10V
Logic Low: <1V
Connectors: BNC
Outputs
Outputs (1 through 12, female BNCs)
ENVIRONMENTAL
Environmental

Operating Temperature: 0 – 70 °C
Storage Temperature: -40 – 70 °C
Humidity: 90% non-condensing
Altitude: 15,000 feet
Power Requirements

AC: 90-264 VAC (<30W), 47-63 Hz
DC: 127 – 370 VDC
3-Pin IEC 320, cord included
Dimensions

1.75" high x 17.5" wide x 9" deep
19" rack mount
Weight: 5.2 pounds (single power supply)
Certifications: RoHS, CE, FCC 15.19(a)(3)
Downloads